Organizing Global Day of Rage - Boston
Recently, Supreme Court of India reinstated Criminality of Homosexuality in India. Specifically the the ruling is about interpretation of section 377 of Indian Penal Code (IPC). This section is a remnant of the colonial era law, sadly still in effect. The impact of this on the LGBT community in India is pretty drastic. This is a huge step back from the 2009 Delhi high court's progressive ruling in favor of LGBT groups. Apart from harassment of LGBT individuals by the police, this would put LGBT groups back underground and various public health initiatives(like HIV AIDS) at a disadvantage.
A few of us in Boston organized Boston's Global Day of Rage. We setup a facebook page, invited few friends and the word spread though Facebook. The protest location was Harvard Square. The turnout was pretty good. Much more than we anticipated. We started the day at panera bread at Harvard Square. Spent some time preparing the written placards. We had plenty of printed placards at hand as well.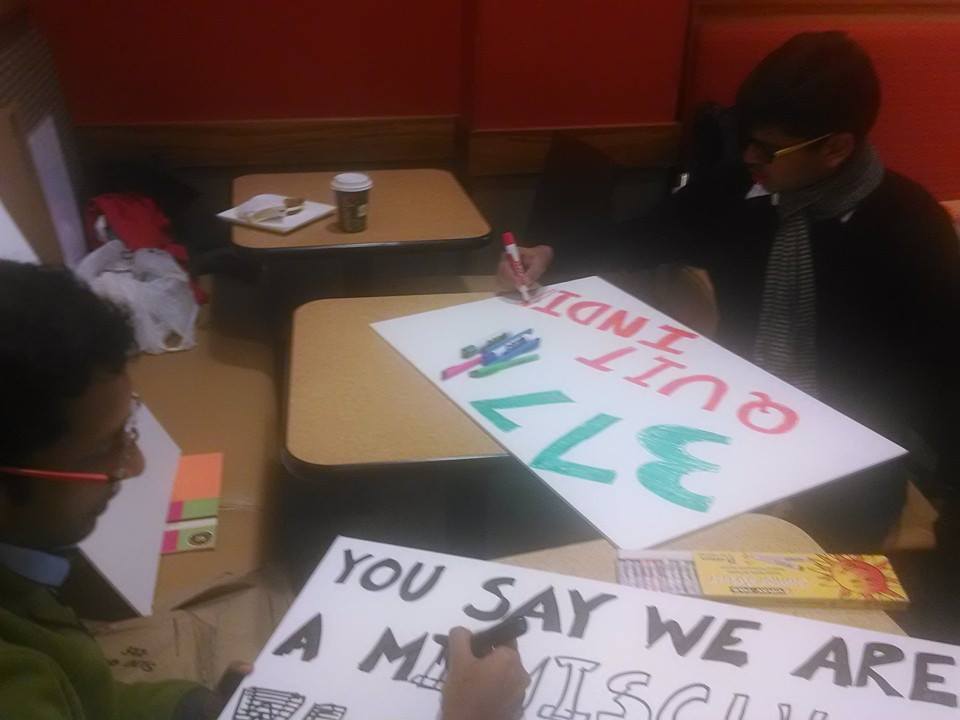 There was a lot of support from various people around Harvard Square. A lot of locals stopped by to join the protest to support the cause. The sweetest of all was the family with a kid that stopped by on their walk around the neighborhood, they joined alongside us in the protest impromptu.
Overall, it was a great experience. We got to contribute to the outrage again the ruling. It was great to see the support we found in the community in and around Boston/Cambridge.
Pictures Courtesy of Mridul Batra.